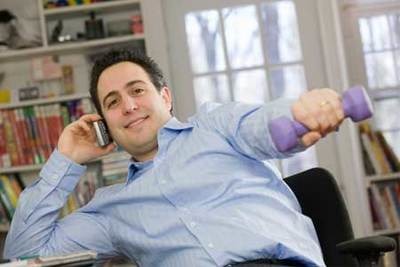 Weight Loss for Busy People Is Never Easy
The reason weight loss for busy people has never been easy is that the key ingredients of healthy weight loss have always revolved around the lowering of calorie intake, while maintaining the appropriate levels of needed nutrients in addition to increasing physical activities. Combining these three key areas involves having the time to plan and prepare healthy diet meals, something busy people usually lack.
It is said, that the average diet lasts between three to four weeks, after which, old eating patterns are returned to. In order to lose weight in a lasting and healthy fashion, a long-term change in eating patterns is required.
A busy person's diet is often filled with fast food as meals are taken on the run. The time needed to research, shop for, and prepare healthy, balanced meals is often missing from his or her schedule as other commitments take priority.
In addition, lifestyles have become more sedentary. The mere living of life would have at one point been sufficient to burn any excess calories taken in. These days, many of us spend our days earning a living with activities that exercise our eyes and fingers more than any other part of the body. Even our recreation time is often filled with activities that burn very little in the way of calories. Exercise is something that needs to be "scheduled" into the busy day and unless there is a strong commitment towards exercising, it is also one of the items that are often left out when schedules become too busy.
The more overweight a person becomes, the less inclined he or she will be to exercise. It is not uncommon to feel overtired sooner and to have a general feeling of being unwell. Someone with these issues will not be inclined to exercise. This is why a busy person's diet is the first area that is often adjusted. If that adjustment includes making a commitment to taking the time to make and consume nutritionally balanced meals, steady weight loss can be achieved while at the same time increasing energy and general wellbeing.
Unfortunately, weight loss for busy people is often planned around fad or crash diets. These diets often remove one or more of the nutritional elements the body requires and drastically lower daily calorie consumption. Because the body in effect goes into a starvation cycle, it begins to hoard its deposits of fat, which are needed sources of energy in times of crisis. Between this hoarding of energy and the loss of nutrients, those partaking of fad or crash diets often feel an increase in tiredness and feeling unwell.
Crash or fad diets lead to a syndrome called Yo-Yo Dieting. When a regular diet is resumed, this dieter will face the additional problem of fighting a body that is now geared to hoarding its energy supplies on top of a regular diet that was one of the culprits involved in their being overweight in the first place. As well, the lack of nutritional balance in a crash or fad diet will have also increased levels of fatigue that do nothing to encourage additional physical activity.
---
Best Restaurant in Brussels | Asian Restaurant in Brussels | Indian Restaurant in Brussels